The Scala Theatre of Milan (Teatro della Scala) is located in the homonymous Square. This theatre is another emblem of the city , opened in 1778 , and took its name from the church, on which remains it was built, the Santa Maria della Scala.
The Scala Theatre is one of the most famous theatres in the world: over two hundred years, hosting internationally known artists and has been commissioner of works still present in the posters of opera houses around the planet.
2015 are the seats for this institution in milan, built between 1776 and 1778.
The Theatre destroyed during the second world war, it was immediately rebuilt.
The la scala season opens usually on the 7th of December, with the feast of Sant'ambrogio (SAINT OF MILAN).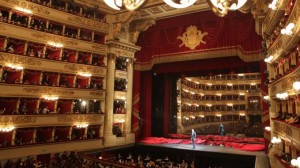 At Scala square is the Palazzo Marino  too (1533), the town hall since 1860, often used for events and exhibitions. In front of the palace stands the statue of Leonardo da Vinci in 1872.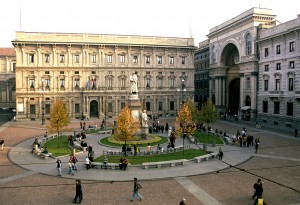 Palazzo Marino
A short distance away you will find the Omenoni's House, so from the name of the 8 Caryatids (omenoni in milan dialect means great men) that punctuate the façade and the main entrance door , built in 1565 by sculptor and engraver aretino Leone Leoni, of which it became a private dwelling house, together with his son, Pompeo Leoni, he is also a sculptor.
The eight figures would represent eight  barbarians are defeated and in the centre of the suggestive relief with the Slander torn from the lions, apparently a reference to the character of the restless and aggressive of the owner.
Today, the  Omenoni's House host the club for gentlemen of Milan's most exclusive : the"Clubino", which opened in 1901, and always reserved for men . It is over a hundred years, a meeting place for the more active, the bourgeoisie and the aristocracy-lit in and around Milan.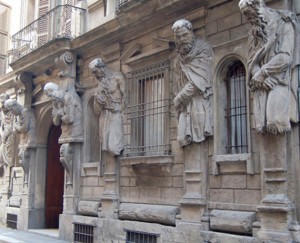 Omenoni House
Moving toward Belgioioso square we find the ancient  "Restaurant Boeucc", more than 300 years of history for this sophisticated long established restaurant, in a centennial building, where you can enjoy exclusive Italian dishes.
In front of the palace stands the house of Alessandro Manzoni, where the writer lived from 1814 until his death in 1873, the house is perfectly preserved.
SUMMARY
1)The cathedral and the Galleria Vittorio Emanuele II
2)Teatro alla Scala
3)The Quadrilater of Fashion District
4)The Last Supper and Santa Maria delle Grazie Church
5)The Sforzesco Castle
6)Brera District
7)The Art Gallery Pinacoteca and the  Brera Accademy
8)The Porta Nuova skyscraper
9)The Navigli canals
19)The Monumental Cemetery