Visiting Milan and the district of China Town
Even in Milan as in every major city in the world, not the "Chinatown" is missing. A few steps from the Arch of Peace and the nightlife, the city changes its face: you enter the Chinese district, which sees in the streets Canonica, Paolo Sarpi and Bramante the main axes. It dates back to the 20s and 30s of the twentieth century the first Chinese presence but it is only since the late 70 that there has been a massive migration which gave the area its current appearance of busy Chinatown. For sure it's worth getting a relaxing walk along the Via Paolo Sarpi, browsing through shops of all kinds. Here you can find everything: going from wigs of every kind and every color in evening dresses and sequins, to oriental objects, all at very low prices.
Not to mention the dozens of restaurants, take aways.
And if you want to take a bit of time for you, you can stop at one of hairdressing salons and manicure which you will find dozens along the way. I recommend you try both the hairdresser manicure found in Via Lomazzo, nice and fast.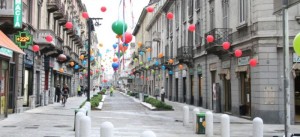 Absolutely worth mentioning for coffee is the TORREFAZIONE CAFFE' DO BRASIL (ROASTING) of Paolo Sarpi street, Italian for generations, where coffee is a poem.
SUMMARY
1)FASHION DISTRICT AND HISTORICAL CENTER
2)FROM THE MEDIEVAL HEART OF MILAN TO THE CASTLE
3)TICINESE DISTRICT AND  NAVIGLI
4)FROM BRERA TO CORSO COMO
5)PORTA NUOVA DISTRICT AND ISOLA DISTRICT
6)CHINATOWN
7)OTHER DISTRICTS: sports district, Bicocca district
8)THE PARKS