Quadrilateral district means the fashion area comprising Montenapoleone street, Manzoni street , Sant'Andrea street and Spiga street, these routes are the fashionable heart of the city of Milan.
Among a bath of shopping, the windows of the big names in fashion and close encounters with famous faces, here you can get lost amidst the wonderful boutiques of the most famous brand.
Walking around the Quadrilateral can plunge a very special atmosphere made of elegant and colorful atelier windows.
Among boutiques, are also prestigious buildings that host important cultural places:
Casa Bagatti Valsecchi Museum, in the same courtyard where we can find the famous restaurant "The Salumaio"(Il Salumaio) .
Palazzo Morando with historical collections dedicated to costume, fashion and image.
Leaving via Montenapoleone to Corso Matteotti, you arrive in  San Babila square: until the beginning of the thirties of the twentieth century, the open space located in front of the homonymous church. The church of San Babila absolutely worth a visit, built in the eleventh century, on the remains of a previous place of worship and remodeled several times.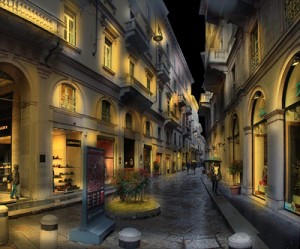 Spiga street
In the quadrilateral district, I would definitely suggest at least three historical places:
Restaurant Il Salumaio
Pastry Cova and Pastry Sant Ambroeus
SUMMARY
1)The cathedral and the Galleria Vittorio Emanuele II
2)Teatro alla Scala
3)The Quadrilater of Fashion District
4)The Last Supper and Santa Maria delle Grazie Church
5)The Sforzesco Castle
6)Brera District
7)The Art Gallery Pinacoteca and the  Brera Accademy
8)The Porta Nuova skyscraper
9)The Navigli canals
19)The Monumental Cemetery