The skyscrapers of Porta Nuova
Not far from Garibaldi station, you cannot miss the new district of Milan: Porta Nuova.
A display of avant-garde architecture between the skyscrapers of steel and glass and woods in the vertical.
Piazza Gae Aulenti and its fountain, sit in the midst of skyscrapers, wonderful , which if you are lucky according to nose in on you can find men acrobatic wiping the glass as if they were dancing. Here we also find the building of Unicredit, which with its spire is the highest in the city. You can admire the work of art "the Egg" (opera d'arte Uovo)  just around the corner, with pipes of brass in which you can listen to the sounds of the city, then follow the walkway to the Vertical Wood, a tall building of apartments with trees and bushes planted on each terrace.
On the  Gae Aulenti square, there are:
shops, bars, ice cream parlours, restaurants and La Feltrinelli .
For those who want to take advantage of this tour, to do a little shopping at a good price, the lower floor can find, the
Esselunga Supermarket.
Our tour of the skyscrapers of new door ends walking throught the Galaxy (Via Lattea) (next to the wood vertically), which street brings us directly to the Foundation Catella and emerging in a new district called Isola District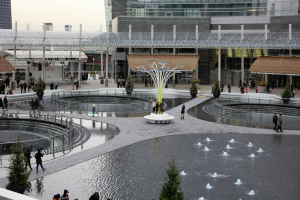 Gae Aulenti square
climbers on skyscraper  UNICREDIT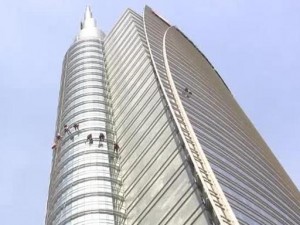 Alberto Garutti's sculpture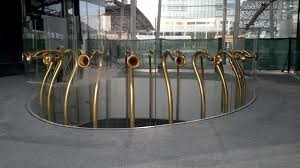 SUMMARY
1)The cathedral and the Galleria Vittorio Emanuele II
2)Teatro alla Scala
3)The Quadrilater of Fashion District
4)The Last Supper and Santa Maria delle Grazie Church
5)The Sforzesco Castle
6)Brera District
7)The Art Gallery Pinacoteca and the  Brera Accademy
8)The Porta Nuova skyscraper
9)The Navigli canals
19)The Monumental Cemetery