1)ATM CITY TOUR
Would you like to visit Milan on board of one of the famous historical tram of the city? Now you can.
For the first time, thanks to ATM City Tour with the historical tram "trucks" of 1928 they become attractions for tourism to take the passengers to the discovery of monuments, palaces, museums, streets, and buildings of the past and present history of Milan.
HOW IT WORKS
The service has 4 lines and is of the type "hop on – hop off", that is, you can hop on and off at any of the stops planned along the four paths, tram and bus moving through the city to the discovery of over 60 points of interest along the routes.
The service is available 7 days on 7, and is available with a single ticket, valid for 48 hours, with which you can travel comfortably on all four routes.
WHAT IS THE COST
The cost of the ticket is 25 € for adults and 10 € for children from 5 to 12 years; children under 5 years travel for free. The ticket is valid for 48 hours and you can buy it directly on board or at the ATM Point and authorized stores.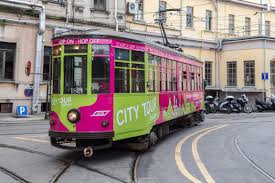 ATM CITY TOUR
2)TRAM ATMOSFERA RESTAURANT
A dinner inside the Tram Restaurant ATM Atmosfera  atmosphere allows to enjoy a unique experience in the most exclusive place that moves in the city!
Reservations required (Obbligatoria la prenotazione).
Imagine combining the magic and beauty that pervade when crossing Milan at night, the enchantment and the emotion to sit on the "timeless seats" of an old car "trolleys" and the pleasure of tasting good food and sip fine wine.
All this thanks to ATMosfera1 e ATMosfera2,  Tram Restaurant ATM  which allow you to enjoy an exclusive dinner in a particular environment where class, sophistication and elegance will accompany you to discover the fascinating Milan by day and by night.
A colonial atmosphere in Orient Express style will be surround to an alternative lunch, a romantic dinner, a business meeting where you can enjoy special traditional dishes.
Menus offered on both trams are prepared by internationally renowned chefs and reproduce traditional Milanese dishes and not. There are three types of menu: Meat, fish, and vegetarian.
The dishes are created from high-quality raw materials and by chefs who work with passion and great professionalism to combine maximum quality assurance with the taste and the pleasure of the board.
3)CHEAP TOUR BY  TRAM
Tram # 29 is the circular tram in Milan and crosses the main doors, the tram is still what it once was, with wooden benches. The route offers to get off at their door and visit the adjacent area, these selected ports: Porta Venezia, Porta Nuova, Porta Garibaldi, Porta Sempione (Arch of peace), Porta Ticinese, Porta Romana.
Ticket: 1.50 euros, duration 90 minutes 
Mind to buy your ticket before boarding