Sforzesco Castle (Castello Sforzesco)  was founded in 1368 as fortress, at the behest of the Visconti, then Sforza transformed it into one of Europe's most beautiful Renaissance residences.
It is a monumental complex that has undergone several transformations, tracing the history of the city. Defensive fortress and imposing residence of the Dukes of Milan, rebuilt and altered over time, is home to the city art collections. The great structure of the castle is a collection of courtyards (Piazza d'Armi), towers (del Filarete), surrounded by crenellated walls (which can be visited with a guide) and ditches. Within Leonardo da Vinci frescoes, recently restored (Sala delle Asse) and Bramantino (Treasury), its art collections are numerous masterpieces, including Michelangelo's Rondanini Pietà which found a new location in the old Spanish hospital.
Inside of the Sforza castle you will find Sforzinda , meeting space and games for children from 4 to 11 years. A way of bringing the little ones to the knowledge of the historical and artistic heritage of our city. The castle is open all year with free activities for preschools in the morning, and one euro for families, every afternoon on weekends and during holidays.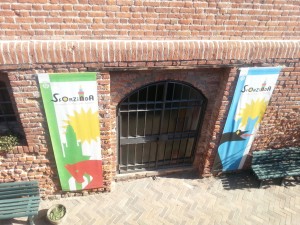 Sforzinda
Visit the secret paths and the Castle
The charm of the Castle is not only for his Sforza residence and museums, but also for the two secret paths (percorsi segreti ), can be visited only if accompanied by guides of the castle ….. with comfortable shoes and a flashlight'll facilitate your visit and intriguing!
To see why: it is a symbol of the city, among the most popular, fascinating and rich in history. And a nice stop between art and culture, events and museums, archives and libraries in the green of Sempione Park.

SUMMARY
1)The cathedral and the Galleria Vittorio Emanuele II
2)Teatro alla Scala
3)The Quadrilater of Fashion District
4)The Last Supper and Santa Maria delle Grazie Church
5)The Sforzesco Castle
6)Brera District
7)The Art Gallery Pinacoteca and the  Brera Accademy
8)The Porta Nuova skyscraper
9)The Navigli canals
19)The Monumental Cemetery