Art, culture, design are the denominators of the Brera District: a few steps from the apartments, in via Brera houses the Pinacoteca, which collects the masterpieces of Italian painting and historical library Braidense (Biblioteca Braidense).
Between Via Fiori Chiari and Via Fiori Scuri, there are the designer shops, vintage and antique boutique, ideal for exclusive shopping.
In the evenings, clubs and restaurants, is the goal for a trendy aperitif, a typical Milanese and exclusive dinner.
Brera, one of the most historic districts of the city is considered by many one of the most authentic legacy of the 'Old Milan'. Beyond the historical character of the whole area – once a destination for artists thanks to the Art Gallery (Pinacoteca) and the Academy (Accademia), now more 'fashionable' – is a place you must go.
A little 'for the charm of its narrow streets, a bit' for the sake of getting lost in the courtyards hidden behind the facades of the houses, the oldest antiques fair in Milan (his birth dates back to 1981) only becomes a good excuse to take a Sunday stroll in the heart of Milan.
APPOINTMENT TO THE VINTAGE MARKET
If you come at the third Sunday of the month, the day that has always held the market of Brera, you can see the unobtainable and wonderful things.
Fans of the genre will not be able to say they've been to Milan without having made a tour in the Brera.
Brera district included:
Brera is also San Marco
Strolling between the buildings and tree-lined streets of Brera, catch the eye of the imposing facades of Palazzo Cusani, Palazzo Citterio and the Church of San Marco, nestled in one of the most picturesque corners of Brera. A very short walk from the Lanza stop ( green line underground), the Church of San Marco (1254) is a monument to the Milanese history: here lived for three months the young Mozart, in 1874, Giuseppe Verdi himself conducted his "Mass Requiem "in memory of Alessandro Manzoni.
Inside, the church gives way to frescoes by the indescribable beauty: Pentecost of Urbino Carlo, overlooking the ceiling of the Chapel of St. Joseph; the Passion of Christ, the dominant theme in the Chapel of Mercy, with oil paintings that completely cover the side walls.
Outside the church you can find a Cloister of the past.
Via San Marco, where there used the canal (now buried), it is a street full of mansions and historic inns.
In addition to the church of San Marco to visit is the early Christian San Simpliciano (with his oratory, happy haven for children), one of the four basilicas founded by Saint Ambrose in the fourth century.
Next to the church of San Simpliciano we find the Università di Teologia  (University of Theology) and the cloister of the past.
Free entry.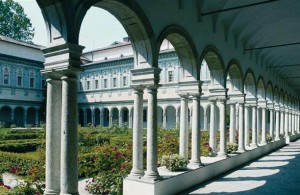 A stop in Via Solferino is a must. Along the way you will find shops, bars and the building of the historical milanese newspaper Corriere della Sera.
Always on Via Solferino there is also plenty of choice for breakfast or a quick lunch, I recommend:
Bakery-Café Marinoni, here you will find delicious croissants and bread and even a great lunch
Beside the bakery Marinoni is also the Carrefour supermarket
Red and fatty Rotisserie for lunch takeout high quality Italian specialties
If you want to stay in this area recommend two fabulous apartments: Warhol   and  Pollock
SUMMARY
1)The cathedral and the Galleria Vittorio Emanuele II
2)Teatro alla Scala
3)The Quadrilater of Fashion District
4)The Last Supper and Santa Maria delle Grazie Church
5)The Sforzesco Castle
6)Brera District
7)The Art Gallery Pinacoteca and the  Brera Accademy
8)The Porta Nuova skyscraper
9)The Navigli canals
19)The Monumental Cemetery