The Navigli canals until the nineteenth century were the port area of ​​the city:
the canals put in communication Milan to Lake Maggiore, Lake Como, down Ticino and Po.
Today it has become one of the most exciting places in the city of Milan! On the local outdoor summer and lights reflected in waterways make it pleasant to spend an evening.
From Naviglio Grande, the most important with the Naviglio Pavese.  In the past the Naviglio arrived the barges (now converted into bars), with the marble needed to make the Duomo. Even today you can see the small historic streets as the "Vicolo dei lavandai', where once women washed clothes and the backyards of tenements with artists at work.
Vicolo dei lavandai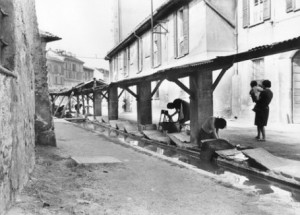 yesterday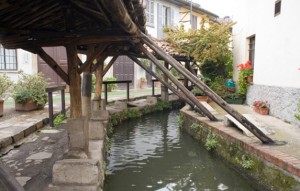 today
APPOINTMENT TO THE VINTAGE MARKET
For Vintage lovers not to be missed is the last Sunday of the month when the canals, hosting exhibitors from all over Lombardy to Market of canals. The banquets are present more than 400, but the bohemian atmosphere remains the same. They are jewelry, especially vintage, just as if you had suddenly found the grandmother's attic. The temptations will chase, and you'll find yourself trying now a brooch, now a ring, now a 30s necklace.
Do not miss a visit to the Church San Cristoforo sul Naviglio.
Also on the canals you can take part in the tour along the beautiful sailing ships ( tour bellissimi navigando lungo il naviglio).
The Navigli  canals especially from spring to autumn, the time of the aperitif is a ritual.
From 6.00pm every room on the canals are filled with tables and couches outside the premises (the whole area is pedestrian), or inside the barges floating in the water.
I suggest you two excellent restaurants tested by us:
Maison Borella, Ristorante le Vigne
SUMMARY
1)The cathedral and the Galleria Vittorio Emanuele II
2)Teatro alla Scala
3)The Quadrilater of Fashion District
4)The Last Supper and Santa Maria delle Grazie Church
5)The Sforzesco Castle
6)Brera District
7)The Art Gallery Pinacoteca and the  Brera Accademy
8)The Porta Nuova skyscraper
9)The Navigli canals
19)The Monumental Cemetery