Milan can be fascinating for children too.
Below you will find other suggestions for our kids:
LEONARDO DA VINCI AT THE CASTELLO SFORZESCO
Leonardo Da Vinci is back ….. to the Castle!!
Sunday 1 may and then on Sunday 15 and 29, at 15.00, Leonardo, played by an actor, will guide visitors in a visit to the battlements of the Castle, curated by "Ad Artem" and is ideal for children from 10 years on (entry forbidden to minors of that age). The tour is titled "The battlements with an actor!" The activity is not recommended to those who suffer from claustrophobia or mobility issues.
Booking required online at www.adartem.it
Other routes:
Below you can find a route for them:
1)MU.BA – Children's Museum
It is born the Children's Museum! The museum has found a beautiful home: the Rotonda della Besana.
In this  historical context is the MU.BA. with the exhibitions, the laboratories, the library and plenty of space in which to have fun, experiment and play as artists.
Before entering you will find a sign:
"FORBIDDEN NOT TOUCH"
2)Sforzesco Castle
Enclosed by imposing walls, the Sforzesco Castle awaits you with open doors! Rich in history, battles, intrigues, mysteries and …… Museums, but also many activities for children and adults. Visiting the battlements, the underground (for those who can not stand the dark and its strange habitants), see some mummy walking around  the Egyptian Museum.
Then enjoy relaxing at the courts of the Castle freedom.
Maybe if you close your eyes  with a little 'fantasy, you could feel still resonate the horses' hooves, …. or alternatively the mewing of the many cats that live there!
Inside the large courtyard you will find SFORZINDA , a corner  dedicated to the children, where they organize all kinds of workshops.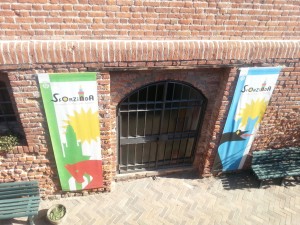 3) Aquarium
The marine and underwater world to everyone. The aquarium always like to the children, they are always attracted by this world, perhaps because with their imagination are able to immerse themself in these wonders , admiring the seabed and any kind of fish that they will find. In each tank a habitat, in every habitat of its inhabitants, which apparently may seem quiet…. actually they chat among themselves. Out of the aquarium you will find a park with ponds where you can find many sleepy turtles. Free admission.
4)Planetary
A wonderful opportunity to afford to have the "air head" and not be told off! The Planetarium will make you discover the sky with all the galaxies and the stars, which periodically meet each other in our misterios  sky.
The entrance fee varies between EUR 4/3 and is located inside the Public Gardens.